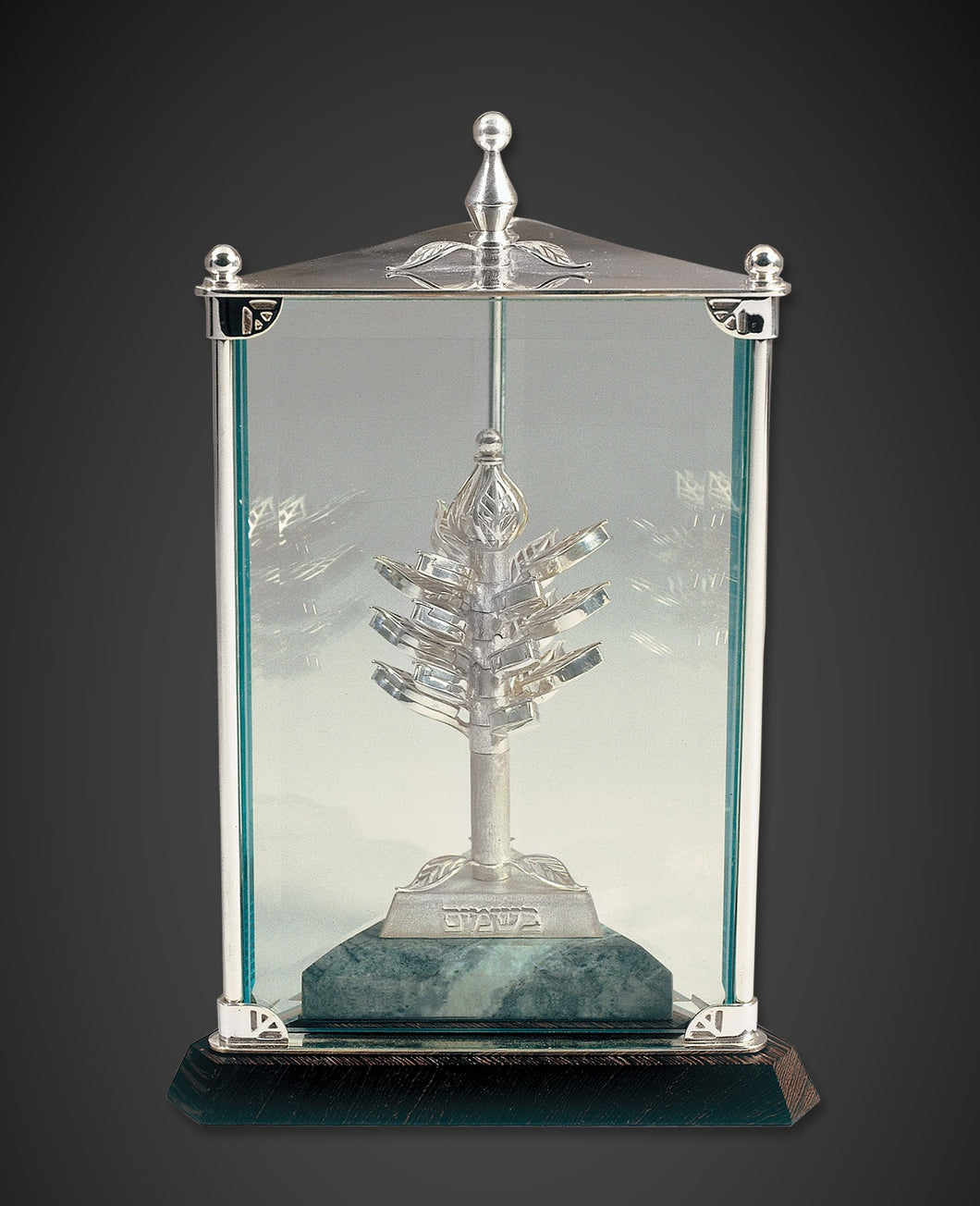 The Hadas Spice Box
Regular price $5,699.00 Sale
#H-2
1997, Spice Box: sterling silver and stone.
Height 16cm, Width 7cm.
Casing: sterling silver and bevelled glass with wood base.
Height: 27cm., Width: 17cm.
Limited edition, signed and numbered by the artist.

The greatest tool we have for appreciation is the ability to distinguish and
differentiate. Thus the Havdalah ceremony heightens one's appreciation of the
Sabbath as it distinguishes between Sabbath and the rest of the week. It is in
this ceremony that one blesses the fragrance of the spice "Borei minei vesamim,"
(creator of various kinds of spice). Rabbi Shimon Ben Lakish said, "On the eve
of the Sabbath, the Holy One, blessed be He, gives everyone an additional soul,
and on the termination of the Sabbath, withdraws it from him" (Talmud Bavli ).
The spices, whose fragrance we inhale, serves as a source of comfort at the loss
of the additional soul. Therefore, it is customary for each person to inhale the
fragrance.
With this concept in mind, the artist created a unique spice container. A sterling
silver myrtle branch, known for its savory fragrance, was used to house the spice.
Placed on top of a stone base is a sterling silver triangle adorned with the blessing
of the spice "Borei minei vesamim." Three leaves were used to harmonize the
myrtle branch with its base. Six sets of three hollow leaves embody the spice. The
vein-like fashion of the leaf enables the fragrance to be enjoyed. The top of each
leaf shifts to the side in order to be replenished. The stem of each triplet has a
groove to ensure that each trio offsets the next, just like the natural growth of the
myrtle. Crowning the branch is a flower bud that unscrews to allow the leaves
to be dispensed. A glass and silver triangular casing prevents the fragrance from
evaporating.
Each work is signed and numbered by the artist and is available in a limited
edition.