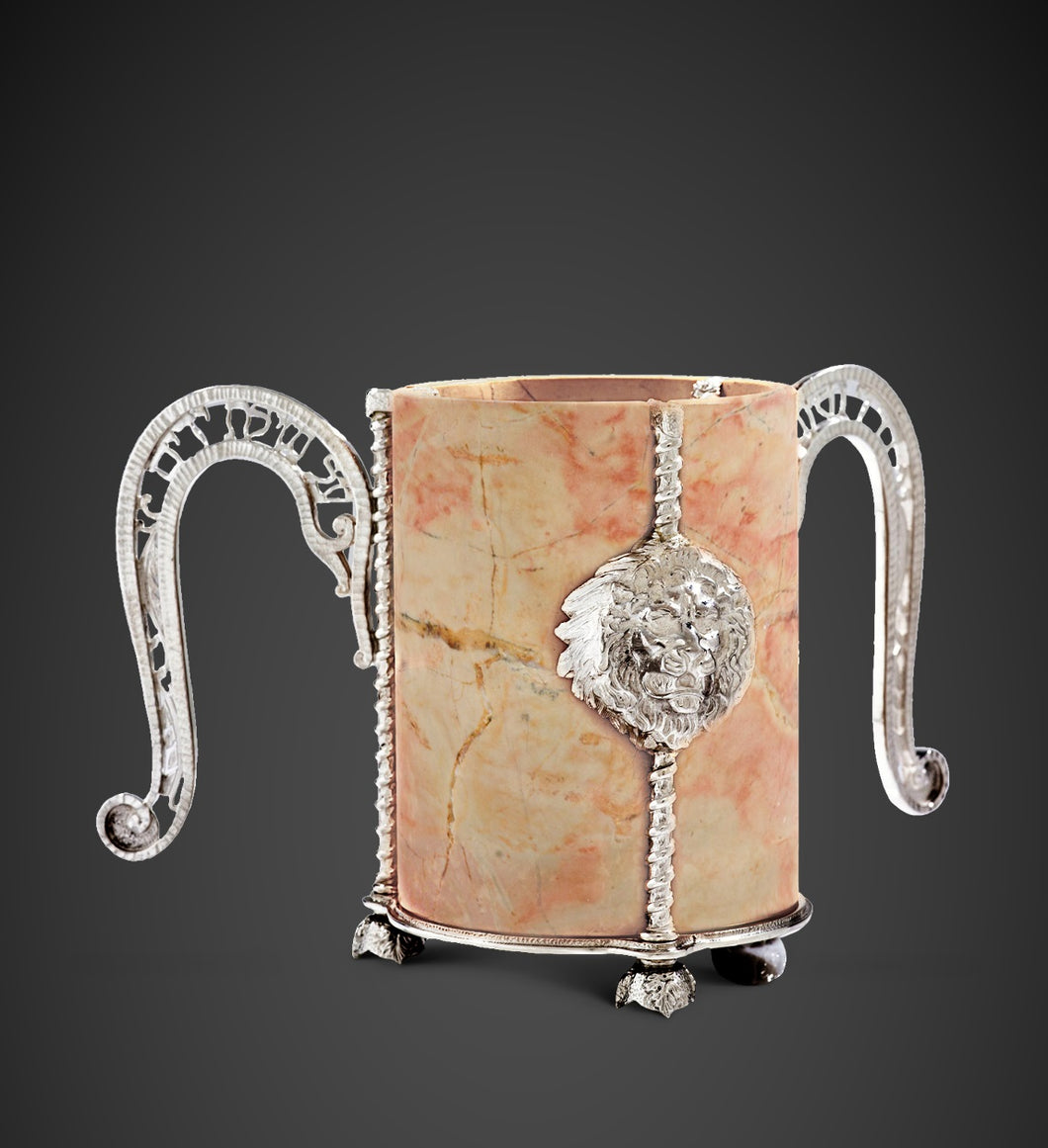 The Lion Stone Washing Cup
Regular price $6,372.00 Sale
#W-7
2015, Jerusalem Stone
and Sterling silver
Height 12 cm., Diameter 10 cm.
Limited addition Signed by the Artist
"Speak unto all the congregation of Israel and say unto them: You shall be holy
for I the eternal your G-d am holy" (Leviticus 19:2).
The purification of the hands before eating bread is not only a physical but also
a spiritual purification. Hands symbolize all interaction with the physical world;
water is symbolic of the Torah and wisdom. We pour water over our hands and
through this action we ask the Lord to guide our hands towards wisdom.
Michael Kupietzky has here created a unique washing cup made of Jerusalem
Stone and Sterling Silver. The design was inspired by the cups used in the holy
temple of Jerusalem and the lion of Judah. The association between Judah and
the lion can first be found in the blessing given by Jacob to Judah in the Book of
Genesis. In the ancient temple of Jerusalem the priest would take the holy blood
of the offerings with a soled stone cup and pour them on the corners of the altar.
The Lion Stone Washing Cup is carved from a sold piece of Jerusalem stone
quarried from the very same location as 2000 years ago. A two Sterling silver ring
adorns the cup. Connecting the rings are three sterling silver pillars reminiscing
the pillars of the temple. Two of the pillars connect the hands of the vessel and
the third the lion of Judah.
Each creation is signed and numbered by the artist and is available in a limited
edition.