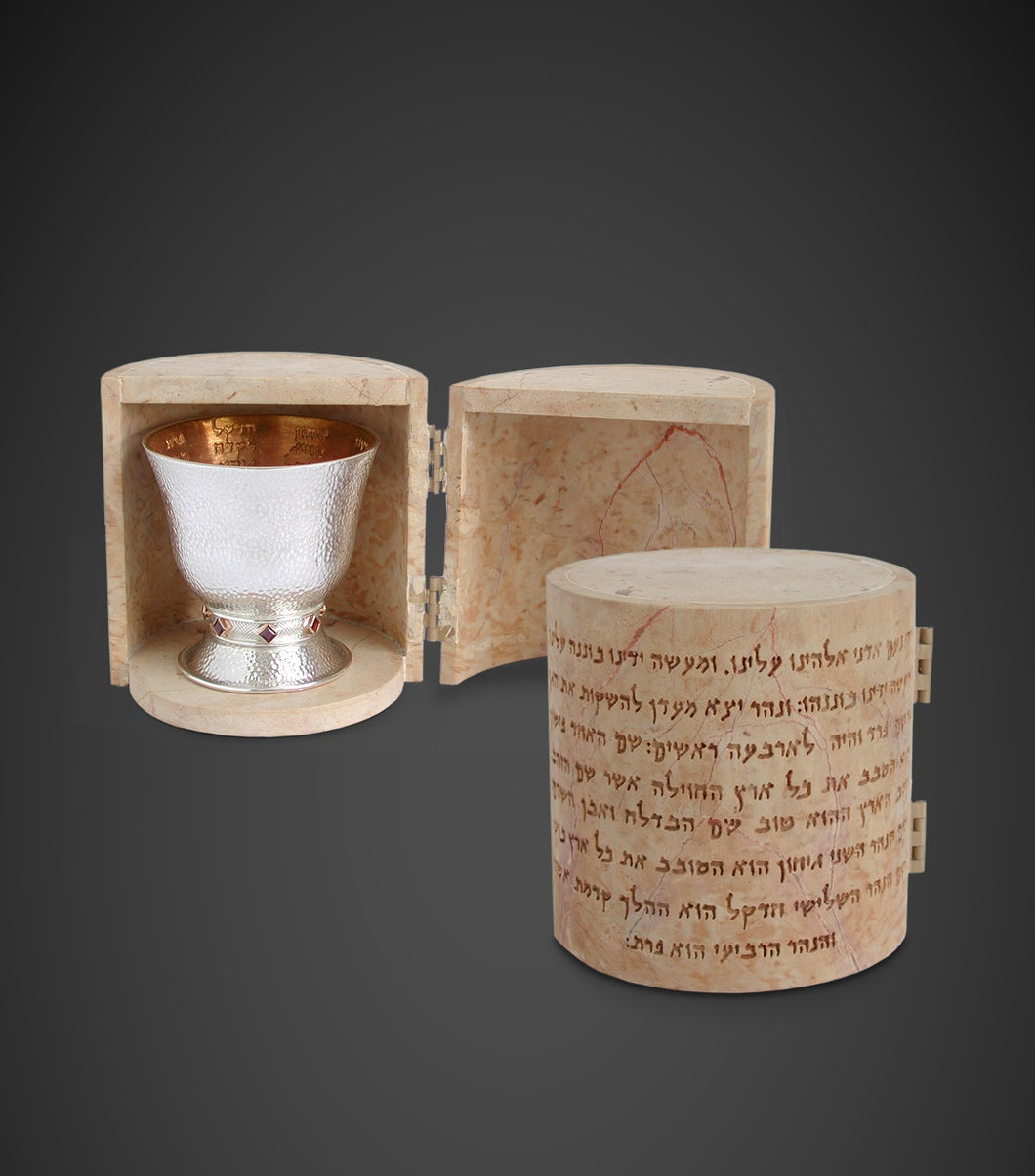 The Rivers of Eden Cup
Regular price $5,971.00 Sale
#K-4
2002, Cup: sterling silver, gold & garnets
Case: Jerusalem stone
Height 10cm, Diameter 9cm
Limited edition, signed and numbered by the artist
The ancient writing inscribed in the Rivers of Eden Cup is as old and mystical
as time itself. The words are the names of the four rivers that flow through the
Garden of Eden: Gichon, Pishon, Perat, and Chidekel. The waters are believed
to have the power to give life or take it away. According to tradition, these warm
waters flow from underground springs beneath Maarat Hamachpela, which is
Eden. The tree of life itself is watered by all four rivers within the Garden. King
Solomon is said to have discovered the secret names used for healing that were
hidden in the Garden of Eden. Later, King Hezekiah, the king of Judea, buried the
names because he felt that their power—which was the key to open the gates of
mercy as well as the Garden--was causing the people to lose their faith in God.
The Kabbala reveals the secrets of each of these rivers. According to tradition, the secret of God Himself rests in the letters of Pishon: They are said to heal every illness, help barren women conceive, and grant success in one's livelihood. The Rivers of Eden Cup opens the gates for all prayers—but only if the cup is engraved in a specific order and manner, similar to how a Sefer Torah must be written in a particular fashion. The wine must fill the letters while the blessing is recited, and when using the cup, one must be careful for what one prays.
The artist has created a sterling silver Biblical-style goblet with a hammered
finish. The text is carved on the inside of the goblet in Qumran lettering. A gold
plating, similar to the gold used in ancient times, gives the piece a feeling of the
past. Adorning the base is a ring with seven garnets representing the seven days
of creation. Holding the cup is a stone cylinder with the special prayer that should
be recited before using the Rivers of Eden cup.
Each work is signed and numbered by the artist and is available in a limited
edition.