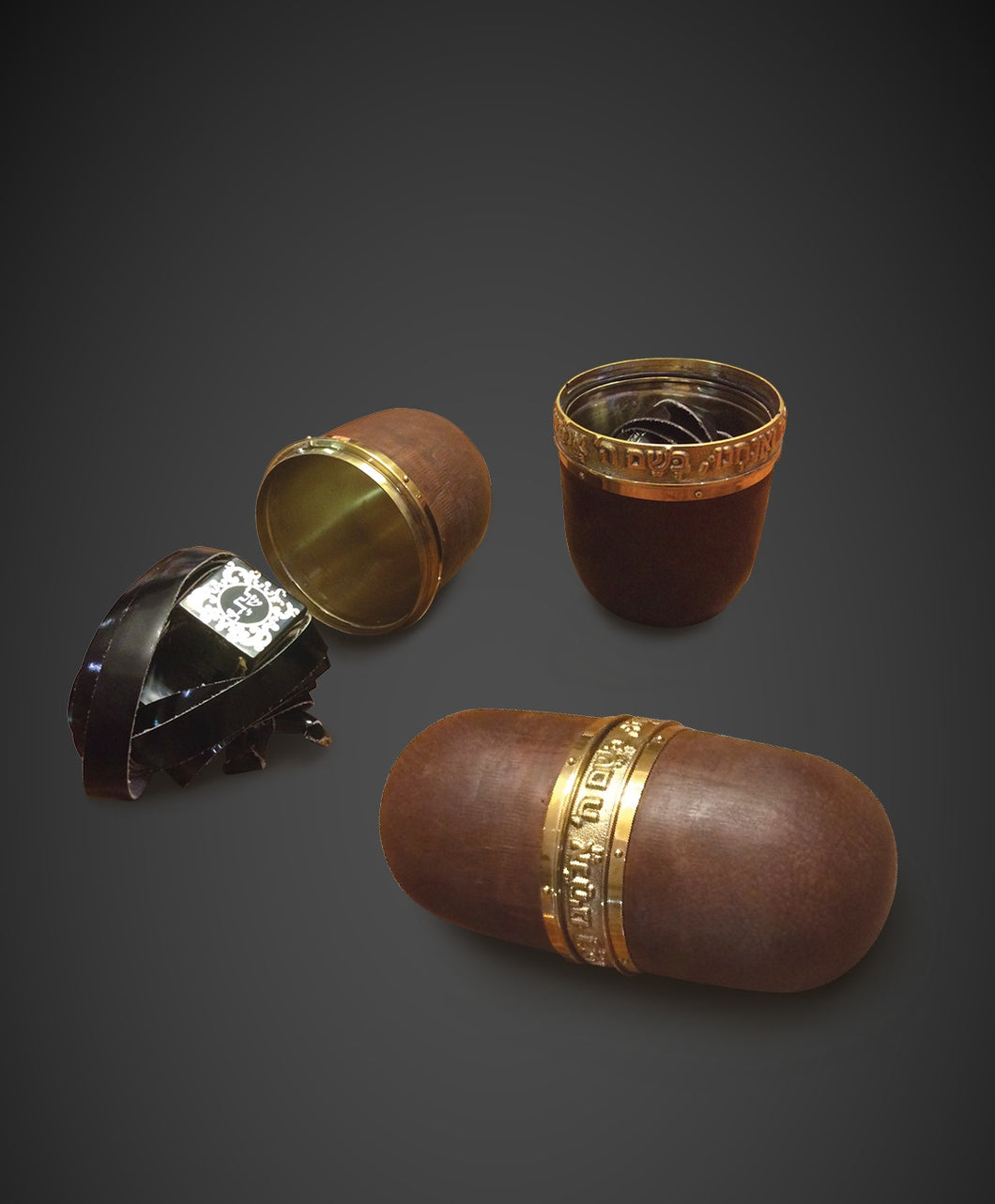 Traveling Mini Tefilin
Regular price $5,192.00 Sale
#X-15
2015, Length 17 cm. width 8 cm.
Brass and Leather
Signed by the Artist Limited addition

Tefillin- תפילין also called phylacteries from Ancient Greek phylacteries, a form of
phylássein, meaning "to guard, protect" are a set of small black leather boxes
containing scrolls of parchment inscribed with verses from the Torah, which are
worn every day except for the Sabbath and holidays. The arm-tefillin, or shel yad,
is placed on the upper arm, and the strap wrapped around the arm, hand, and
fingers; while the head-tefillin, or shel rosh, is placed above the forehead. The
Torah commands that they should be worn to serve as a "sign" and "remembrance"
that God brought the children of Israel out of Egypt. The scriptural texts for tefillin
are obscure in literal meaning. For example, Deuteronomy 11:18 is one of the
standard texts referenced as supporting the obligation, but does not designate
what specifically to "bind upon your arm," and the definition of totafot is not
obvious. It is the Talmud, the authoritative oral tradition for Rabbinic Judaism,
which explains what are to be bound to the body and the form of tefillin. Black
leather straps (retsu'ot) pass through the rear of the base and are used to secure
the tefillin onto the body. On both sides of the head-tefillin, the Hebrew letter
shin ( ש) is molded. The knot of the head-tefillin strap forms the letter dalet ( ד) or
double dalet ( ד) (known as the square-knot) while the strap that is passed through
the arm-tefillin is formed into a knot in the shape of the letter yud ( י). These three
letters spell Shaddai ( שדי ), one of the names of God.
Michael Kupietzky crated an egg-shaped traveling case for a pair of mini Tefillin.
Two brass half egg-shaped cups house the head-tefillin and arm-tefillin. The half
egg-shaped are covered with a leather finish. Joining the two half's is a brass ring
with the pasuk ( "אֵלֶּה בָרֶכֶב וְאֵלֶּה בַסּוּסִים וַאֲנַחְנוּ בְּשֵׁם יְהוָה אֱלֹהֵינוּ נַזְכִּיר" )תהילים כ, ח
These chariots and some in horses, and we mention the name of the Lord our God.
Each creation is signed by the artist and is available in a limited edition.